Description
The Simple Life foundation was designed to replace a worn or soft boxspring. It ships folded but opens to a full 8″. Comes with cover.
America's Healthiest Mattress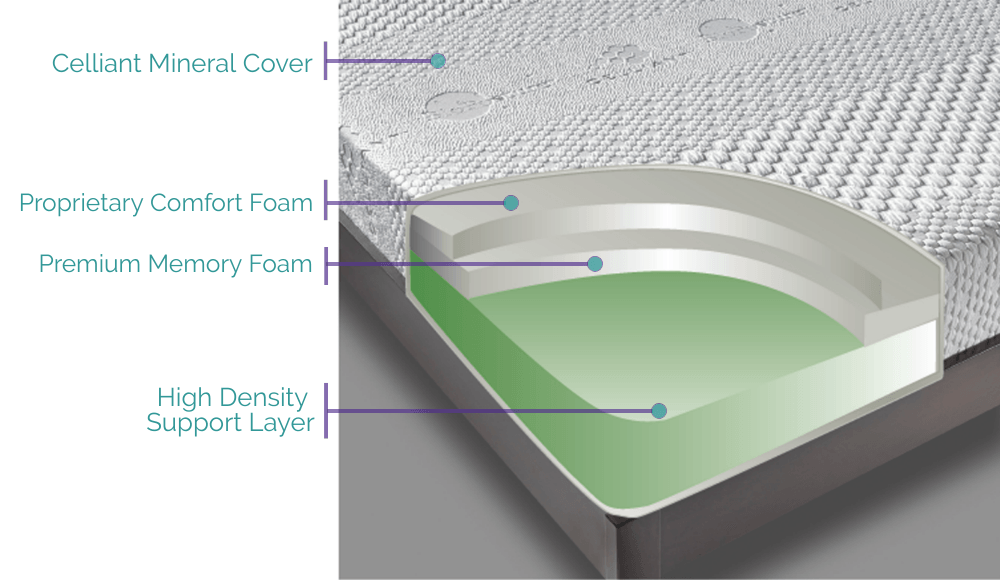 Optimal Balance of Comfort & Support
BioPosture's patented design was perfected with input from top doctors and chiropractors, offering 3 layers of comfort and support foams to ensure proper pressure relief and spinal alignment, without being too firm or too soft. You sleep on it, not in it.
Cool Sleep with Temperature Regulation Technology
Our BioMemoryFoam™ uses proprietary Open Cell foam 20 times more breathable than traditional memory foams or soft latex and has 13 times faster heat dissipation. Every mattress is covered in Celliant for healthy infrared benefits, which also promotes thermoregulation to keep you cool.
Eco-Friendly & Free of Harmful Chemicals
In addition to being available without chemical flame retardants, BioPosture mattresses are CertiPUR-US Certified. This means low VOC (volatile organic compounds) emissions for minimal off-gassing and no harmful chemicals like lead or formaldehyde. BioMemoryFoam™ is also made with plant oil substitutes to lessen the environmental impact.
See Why Customers Love BioPosture

"We're totally in love with our BioPosture! We can't decide if we like getting into bed more or waking up relaxed and refreshed every morning."Mark & Maddy, New York

"In more than 25 years I have not slept so well. This mattress has brought me relief I never dreamed possible."Tandy, Florida

"I can literally feel the bed molding to shape my weight so as to perfectly align my spine. Not to mention the help with endless pain that used to torment me day and night. I actually sleep without medicine and severe pain all night now!"Tom, Texas
What the Mattress Experts Are Saying

"The BioPosture mattress feels great and will please all types of sleepers. Very few mattresses can accomplish this feat. It provides amazing support without being too firm…Get this mattress if you want to sleep easy knowing you are getting proper spinal support and all the benefits of Celliant to help your body recover after a stressful day."
Read the Full Review by The Sleep Sherpa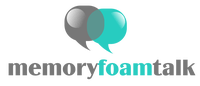 "BioPosture is unique in that its mattresses have been prescribed by thousands of doctors over the last 7 years, so they know a thing or two about building a great mattress and aren't just another Bed-In-A-Box mattress vendor.
The premium materials used in the design of the BioPosture work together to provide a very comfortable yet supportive mattress that is ideal for all sleeping positions…one of the highest quality mattresses that we have reviewed."
Read the Full Review by Memory Foam Talk

Frequently Asked Questions
What makes a BioPosture™ mattress unique?
Only BioPosture is made on order, so it can be manufactured for you without the mandated chemical flame retardant, when your doctor provides a Letter of Medical Necessity. In addition, every BioPosture™ mattress is covered in a zip on/off patented mineral fabric called Celliant®, a 21st-century performance textile made from 13 optically-responsive minerals that convert and recycle body heat as FAR infrared energy. Infrared energy promotes a temporary improvement in blood circulation which in turn, increases the delivery of oxygen to body tissue for improved recovery.  The clinical evidence for this positive wellness effect is so compelling that the FDA has declared BioPosture products with Celliant are "medical devices" and "general wellness products".
Is BioPosture as comfortable as the more expensive leading brand?
Because of our open-cell architecture you do not sink into or get "stuck" in a BioPosture like some other memory foam beds. You get the feeling of floating in zero-gravity comfort, for the best rest of your life.
What is the BioMemoryFoam™ used in BioPosture™ memory foam mattresses?
Every BioPosture™ mattress is made in America with CertiPUR-US certified foams that contain no formaldehyde or heavy metals. Our formulation and production process create the most breathable memory foam mattresses on the market. This means you sleep cooler and more comfortably. Our exclusive BioMemoryFoam™ is made with plant oil substitutes to respect the environment.  All BioPosture™ memory foam mattresses, BedToppers and BioPillows are made with biodegradable and rapidly renewable materials. BioMemoryFoam™ uses a 100% natural plant-oil substitute in its manufacturing process. And each BioPosture mattress is compressed at the end of the production process, vacuum-sealed for purity, roll compressed into a box and shipped directly to the purchaser, greatly reducing the carbon footprint of delivery.
What is the warranty on my BioPosture?
Each BioPosture™ BioMemoryFoam™ mattress carries a 10-year limited warranty. See warranty details.
Why do Doctors of Chiropractic and other Health Care Professionals recommend BioPosture™?
Chiropractors report that their patients often ask "Doc, what mattress should I be sleeping on?" or "Could my mattress be part of the problem?"  Chiropractors and other health care professionals know that the sleeping environment is critically important to a patients structural integrity and well-being. And our Network Doctors know they can confidently "prescribe" BioPosture™ because it is unlike any other memory foam mattress on the market today and provides the ideal combination of orthopedic support and comfort.
Will the BioPosture™ mattress sleep hot like other memory foams?
No.  However, foams by nature are great insulators, trapping heat. That is why foam is sometimes used to insulate a house. Thus, many people complain about sleeping hot on their memory foam mattress. This is NOT the case with our BioMemoryFoam which is 20 times more breathable than conventional memory foam and soft latex foam.  It also features 13 times faster heat transfer through the foam than conventional memory foam and 16 times faster heat transfer than soft latex.  Importantly, BioMemoryFoam™ is temperature neutral. It is not affected by variations in room temperature. Other memory foams become hard in a cool room and soft in a warmer room.
Will I experience the "sinking in sand" effect of other memory foam mattresses?
Many brands of memory foam mattresses respond to body heat, as well as body weight. This can give one a feeling of sinking into quick sand. It makes changing positions during the night an effort. Not with BioPosture™. Our BioMemoryFoam mattress gives you a feeling of floating "buoyancy" . You sleep on a BioPosture™, not in it. BioPosture's adaptive quick response foams are designed for comfort and support so changing positions during the night is effortless. You "Sleep In Natural Balance" all night long.
Are there delivery charges?
Not unless you opt for a "In-Home Delivery". If you prefer to have it delivered by a "In-Home Delivery" service by appointment, and have your old mattress removed, a separate fee applies.  You can select "In-Home Delivery" at check out.
Do I need a foundation?
To perform best, a good memory foam mattress must be placed on a hard or solid sleep surface. We strongly recommend the use of a foundation, slats or a platform bed. Box springs that are soft can defeat the benefits of your new memory foam mattress. It is important to note that our 10-year warranty is only in effect when the BioPosture™ mattress is placed on and used over an approved foundation.
What exactly is a BioPosture Kinetic System?
In response to customer requests, BioPosture is now offering their proprietary BioMemoryFoam Mattresses in a system with the highest rated power adjustable bases.  These can be configured with a single mattress of any size…or with two mattresses allowing full individual adjustability.
Does mattress thickness matter?
BioPosture™ comes in 10″ and 12″ thickness. Both use the same amount of memory foam and both come covered in Celliant®. Both provide the same firm orthopedic support and comfort. The difference is primarily aesthetic though the 12″ offers slightly more support foam and is often selected by heavier sleepers. For those who prefer a softer more plush sleep experience, we have developed the BioPosture Comfort Plus model, made with 4″ of gel/memory foam on top.
What is the significance of foam density?
Though many marketers of memory foam mattresses try to convince you otherwise, density does not relate directly to comfort, firmness or coolness. The only fact is that the greater the density, the heavier the mattress, not the better the mattress. When you buy a memory foam mattress, you will pay more for a denser foam because it costs more to manufacture. In fact, all density reveals is the weight of the foam. A 5 lb. density simply means that a 1 ft. cube of the material weights 5 lbs. The layers of BioMemoryFoam™ in our BioPosture™ mattresses range in density from 3-4 lb., and there is a layer of a special comfort foam added for better ergonomics and comfort. It is this internal architecture that gives the BioPosture™ its superior feel, support and durability.
How do I know the BioPosture™ BioMemoryFoam™ Mattress is right for me?
BioPosture™ offers you a 90 "Good Nights' Sleep" Comfort Guarantee.  You have 90 nights to sleep on your new mattress in your home without risk. This will give you the time you need to fully adjust to this improved sleep experience. This is especially important for those individuals who have been sleeping on a conventional inner-spring mattress and have now transitioned to  BioMemoryFoam™. While most customers report feeling the support and comfort they expected from the first night, research indicates that you may require a minimum of 30 days, and possibly longer, to allow your body to make a complete adjustment. If you are not 100% satisfied after 90 nights, we will replace your BioPosture or arrange for your BioPosture to be picked up for free and give you a full refund.
What BioPosture™ pillows are available?
BioPosture™ offers two shapes of pillows at this time: a TRADITIONAL CROWN in 24″ and 28″ lengths, and a CERVICAL WAVE model that comes in low and high contours. The two cervical models are both 24″ in length. All BioPosture™ pillows are made from the same BioMemoryFoam™ used in our mattresses and are covered in a zip-off Celliant® fabric ticking.
Why a 90-Night Return Policy on Mattresses?
For many of us who have slept on an older mattress or a mattress on a poor foundation for a long period of time, it will take some adjustment to fully enjoy and appreciate the benefits of BioPosture's orthopedic design.
How can I remove stains from my BioPosture mattress?
The Celliant fabric covers on BioPosture Mattresses and BioPillows can be easily spot cleaned with mild detergent/cold water, then treated with Fabreeze when dry.
Alternately, the fabric covers can be removed and dry cleaned, or hand washed in cold water/air dried. It should be noted that putting the fabric back on the Mattress can be a challenge (and takes two people) as it is designed to be "snug".
We also always recommend that you purchase and install a water-resistant/or waterproof mattress protector.
The BioMemoryFoam Mattress
The BioPosture Mattress combines Celliant(R), a patented, clinically validated bi-functional textile that supports improved blood flow and enhanced tissue oxygenation, with proprietary layers of memory and comfort foams, for superior comfort, body conformity and spinal alignment. BioPosture regenerates, restores, and recharges the human body for improved recovery from injury and pain.
BioPosture products with Celliant technology have been determined to be "Medical Devices" and "General Wellness Products" by the FDA.
BioPosture™ mattresses have been prescribed by thousands of Doctors of Chiropractic (DC's) and related Healthcare Professionals (DO's, ND's, MPT's, MD's) since 2007. BioPosture is unique in design and construction to provide spinal alignment and therapeutic support. Every BioPosture comes with a removable and washable Celliant® cover which provides the proven health benefits associated with infrared energy, while you sleep.
Technology Outside, Comfort & Support Inside.
BioPosture is a different kind of mattress. Each BioPosture is made on-order in our US factory and can be manufactured without the federally-mandated chemical flame retardant for non smokers when your Licensed health care Professional writes a Letter of Medical Necessity (LOMN).
BioPosture was developed in consultation with leading Doctors to provide the optimum in spinal support, superior sleep and enhanced recovery from the stresses of activity and every day life. Importantly, BioPosture enjoys a customer satisfaction of over 98%.
Your new BioPosture mattress will work great on any hard surface, including platform beds, slatted beds (as long as the slats are no more than 2″ apart) and firm foundations.  Even the floor!
By purchasing a BioPosture, you are getting the very best mattress money can buy. You can spend thousands more, but will not get a better mattress, or a better night's sleep!
Need a power base or foundation for your new mattress?
Power Bases and Foundations Need help with installation?
White Glove Delivery Service
Note:Mattress sizes can vary by up to one inch.
I can literally walk when I get up in the morning BEFORE my shower! This is something I have not been able to do for over 20 years.
–TJC, Round Rock, Texas
---
Mattress Sizes
TWIN: 39″ X 75″
TWIN XL: 39″ X 80″
FULL: 54″ X 75″
FULL XL: 54″ X 80″
QUEEN: 60″ X 80″
KING: 76″ X 80″
CA. KING: 72″ X 84″