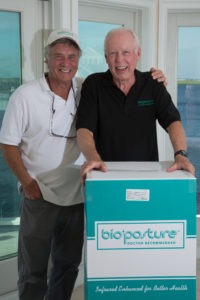 We have always loved solving difficult problems. So when the choice came between retirement or starting up a business, we and our spouses both agreed that the latter was the best option. We packed up our combined experience in marketing and the mattress industry and went looking for just such a problem to solve.
We found ourselves at a meeting of chiropractors in Boca Raton, Florida. We spent the day observing and asking questions of these experts, and the first thing that struck us was how often patients asked medical professionals what mattress they should buy. These chiropractors received this question multiple times a week and they were frustrated that they had no specific answer. Doctors who are responsible for maintaining proper spinal alignment should absolutely have a great mattress option to recommend to their patients.
So, we set to work developing a different kind of mattress: a mattress designed by and for doctors and their patients. This mattress had to be comfortable while still offering optimal spinal support. It needed to provide additional health benefits like promoting blood flow, to support faster recovery. And most importantly, since it would be sold through licensed health care professionals, we could offer the option to eliminate the chemical flame retardants that so many health conscious families are concerned about.
This was the birth of BioPosture: the doctor-recommended brand. We identified a manufacturing partner who would build on-demand and developed a plan to be available exclusively through leading doctors and chiropractors.
However, with BioPosture being available only through our network of doctors, many folks were missing out on the opportunity to experience healthy sleep. So starting in 2019, we gave consumers an option: use your doctor or we will arrange consultations for you with BioPosture network doctors in your state to enable you to buy an infrared enhanced BioPosture Mattress without the flame retardant.
Finally, doctors across the world have an answer to the patient question that started it all: "Doc, what should I be sleeping on?"
To the Healthiest Sleep of Your Life,
Irwin & Tom